Spring salad.
Photo: Steven Siewert
SEASONS OF CHANGE
When I began writing this column, it was called The Interactive Cook. An online clip accompanied each week's feature recipe, in which I showed how to cook the dish. That was January 2005. Seasonal Cook took over in March 2007, and today's column will be the last.
It has been a lot of fun – not only in the researching and writing, but also in preparing and cooking each dish for the accompanying photographs. Above all, I've enjoyed the hundreds of emails from you, the readers. I have answered each one personally, though sometimes not as quickly as I would have liked.
I leave you with a couple of recipes for the new season just around the corner. The first uses some of spring's delights: spring onions, peppers and cucumbers. The other highlights asparagus, which to my mind is a star of spring, along with artichokes and broad beans.
Thank you.

SPRING SALAD
1 garlic clove
2-3 large oxheart tomatoes, still firm
2 red capsicums
2 spring onions
2 medium-sized cucumbers
1/2 cup double-peeled broad beans
8 basil leaves
3 anchovy fillets
20 small green olives, preferably taggiasche
2 tbsp red wine vinegar
4 tbsp extra virgin olive oil
Salt and pepper
1 hard-boiled egg
Cut garlic in half and rub the inside of a ceramic serving bowl repeatedly with the cut sides. Cut tomatoes into bite-sized wedges and place in bowl. Finely slice capsicums. Peel onions and cucumbers and finely slice. Blanch broad beans in boiling water for 30 seconds then drain. Tear basil into strips and finely chop anchovies. Remove stones from olives and roughly chop. Place vegetables, basil, anchovies and olives in the bowl with tomatoes and dress with vinegar and olive oil. Season to taste and toss well. Leave for 15 minutes, tossing every so often. Divide onto serving plates. Cut egg into 8 wedges and distribute on each salad.
Serves 4 as a light lunch
Wine Rosé
ROMAN-STYLE GNOCCHI WITH ASPARAGUS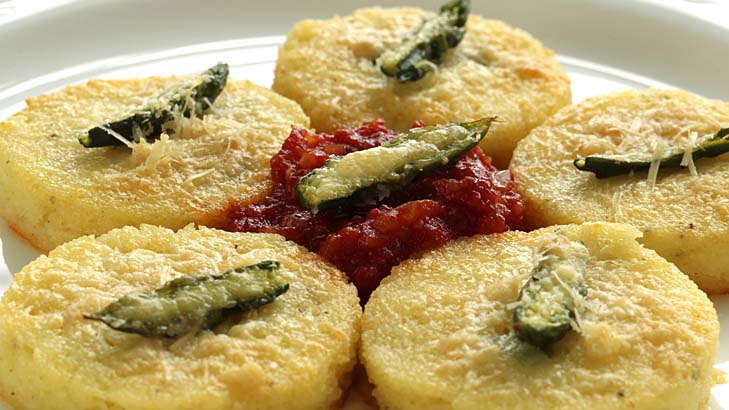 250g asparagus, bases trimmed
1 litre milk
Salt
250g semolina
2 egg yolks, lightly beaten
100g unsalted butter
Half tsp grated nutmeg
70g grated parmesan
Bring a pot of salted water to the boil and add asparagus. Cook until tender, drain and let cool. Cut tips to 4cm lengths and finely slice the leftover stalks. Set aside. In a saucepan, bring milk to a gentle boil with 2-3 pinches of salt, and add semolina, pouring in a fine stream and stirring with a whisk to prevent lumps forming. Once mixture has thickened, turn heat to low and continue to stir with a wooden spoon for 10-12 minutes. It will thicken a lot but continue to cook. Remove from heat then stir in egg yolks, butter, nutmeg and half the parmesan. Stir in asparagus stalks. While mixture is still hot, pour onto a marble slab or wooden board to a thickness of 1cm. Once cooled, use a 5cm round pastry cutter to cut out gnocchi. Line a baking dish or two with baking paper and place gnocchi side by side, leaving a space between each. Cut asparagus tips in half lengthwise and lie one on each of the gnocchi. Scatter remaining parmesan on top. Bake in a preheated 190C oven for 30 minutes. Serve hot with a tomato sauce.
Serves 4-6 as a first course or main
Wine Orvieto or verdelho
smanfredi@smh.com.au
twitter.com/manfredistefano