Sweet and sour chicken.
Photo: Fiona Morris
TANG WITH A TWIST
There's more to sweet and sour than bright orange Chinese pork.
Sweet-and-sour pork was probably the first restaurant dish I had in Australia. It was in a suburban Sydney Chinese restaurant more than 40 years ago and I remember it for its DayGlo orange colour and tangy honey and sugar flavours.
It's still a mainstay of Australian Chinese restaurant menus. That sweet-sour flavour paired with fatty meat is so damn good.
That sweet-sour flavour paired with fatty meat is so damn good.
Many countries have sweet-and-sour dishes. And it's not always simply the sugar-vinegar combination that achieves the familiar flavour.
Vietnam has sweet-and-sour fish soup, the sweet coming from pineapple and the sour from tamarind paste. The Thai version also uses the sourness of tamarind but balances it with palm sugar.
The Japanese use mirin, a sweet vinegar, combined with "sweet" dashi stock for satoimo nakake (taro in sweet-and-sour sauce).
Around the Mediterranean, the combination is primarily wine vinegar and sugar, though grapes – both fresh and dried – are used for sweetness. Grape juice can also provide both sweet and sour elements: sweet in the form of concentrated must (also called saba or vincotto in Italy) and sour using verjuice from unripe grapes.
SWEET AND SOUR CHICKEN
1.5kg chicken thighs
2 onions
250ml dry red wine
3 bay leaves
Salt
6 peppercorns
1/2 cup plain flour
6 tbsp extra virgin olive oil
2 tbsp finely diced pancetta
2 celery hearts, finely chopped
10 green olives, flesh removed and chopped
1 tbsp capers
50g sultanas
50g pine nuts
1 tbsp castor sugar
4 tbsp red wine vinegar
2 tbsp chopped parsley
Six to 8 hours before cooking, rinse and pat dry chicken thighs. Place in a bowl. Peel and thinly slice 1 onion and place in a pot with red wine, 1 bay leaf, 1 tsp salt and the peppercorns. Bring to boil for a minute then remove from heat. Once cooled, pour over chicken, cover and refrigerate. When ready to cook, drain and pat dry. Dust chicken with flour and fry until golden using half the olive oil. Heat remaining oil in a casserole dish and lightly fry pancetta, remaining onion (finely chopped), celery, olives, capers, sultanas, pine nuts and remaining bay leaves for a minute. Add chicken, a couple of pinches of salt and stir on low heat. Dissolve sugar in a bowl with vinegar and add to chicken. Mix, cover with lid and cook on low heat for 10-12 minutes, adding water if too dry. Season, stir in parsley and serve.
Serves 6 as a main

Wine Barbera or dolcetto
SWEET AND SOUR PRAWNS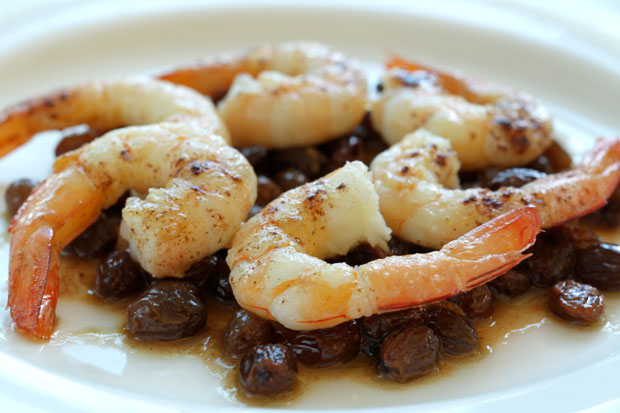 Sweet and sour chicken.
Photo: Fiona Morris
24 medium-sized prawns
80g sultanas or seedless raisins
3 tbsp rice flour or plain flour
4 tbsp extra virgin olive oil
Pinch of ground cinnamon
Salt and pepper
30ml strained lemon juice
1 tsp white wine vinegar
Peel prawns, leaving tails on, and remove digestive tracts. Place sultanas in a bowl and cover with tepid water. Soak for at least 30 minutes. Dust prawns with flour and shake off excess. Heat olive oil in a wide pan and gently fry prawns on medium heat for 30-45 seconds on each side. Add cinnamon, a couple of pinches of salt and a turn or two of pepper. Remove pan from heat. Using tongs, remove prawns (keeping juices in pan) and set aside. Drain sultanas and squeeze to remove excess water. Return to heat and add sultanas, lemon juice and vinegar. Simmer and keep stirring until liquid has reduced to a tablespoon or so. Return prawns for a few seconds then serve.
Serves 4 as a first course
Wine Riesling