Precious product … Parmesan cheese.
Photo: Patrick Cummins
WHEY TO GO

Parmigiano-reggiano is one of northern Italy's finest contributions to the culinary world.
Two recent earthquakes near the city of Modena, in northern Italy's Emilia-Romagna region, left 24 people dead and 15,000 homeless. The shocks devastated many priceless historic buildings.
As if that was not catastrophic enough, footage was beamed around the world of 20-metre-high shelves full of parmigiano-reggiano (parmesan) wheels that had toppled like dominoes.
Not every facility was affected. The damage was indiscriminate, but by the time the dust settled an estimated 300,000 wheels had fallen. About half – representing 5 per cent of annual production – were damaged. Parmesan is currency in this community. It was heartening to see footage of rescued wedges of cheese being sold at a 40 per cent discount in the heart of Modena. Standing in line was a young woman who said that she was buying parmesan not just because the price was good, but also "to stand in solidarity with my people".
Everyone in the area depends on parmesan. It constitutes an entire agrarian system that has given the world a truly precious product.
GRILLED SCALLOPS WITH PARMESAN FENNEL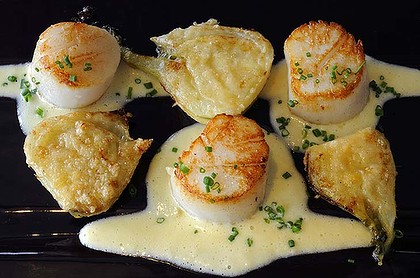 Grilled scallops with parmesan fennel.
Photo: Jimmy Pozarik
2 small to medium fennel bulbs
Juice of 1 lemon
1 tbsp white wine vinegar
2-3 knobs salted butter
150g parmesan, grated
Salt and fine white pepper
18 large scallops, cleaned
2 tbsp extra virgin olive oil
100ml pouring (single or pure) cream
2 tbsp finely sliced chives
Trim fennel bulbs removing tougher outside leaves and most of the base. Cut into 16 slices and place in a pot with plenty of water, lemon juice and vinegar. Bring to the boil, then reduce heat and simmer for 10-12 minutes until tender. Remove slices from water. Pat dry and place them in a baking dish. Drop butter in dish around fennel. Top with 100g grated parmesan. Season a little with salt and white pepper. Bake in a preheated 200C oven for 5-8 minutes until golden. Meanwhile, sprinkle scallops with a little salt. Heat olive oil in a large skillet and, just when oil begins to smoke, sear scallops for 1 minute on each side, depending how thick they are. Once well browned, remove pan from heat and set aside. Whip cream to form soft peaks. Place whipped cream in a saucepan on medium heat and whisk in remaining parmesan until it melts and starts to bubble. Place fennel and scallops on plates, spooning cream sauce over the top. Finish with chives.
Serves 6 as a first course

Wine Traminer or pouilly-fume.
RICE WITH PARMESAN, PROSCIUTTO AND MOZZARELLA
Salt and cracked black pepper
400g Italian rice such as carnaroli, arborio or vialone nano
60g unsalted butter
300g fresh mozzarella balls
120g parmesan, grated
6 rashers prosciutto, cut into thin strips
3 tbsp coarsely chopped parsley
In a large saucepan, bring to the boil 4 litres of water with 1 tsp of salt. Add rice, stir and simmer for about 20 minutes, depending on the rice. It should be al dente but not chalky. Meanwhile, cut butter into thin slices. Drain mozzarella and tear into some small pieces. Drain rice when it is cooked and transfer into a large, warm serving bowl. Stir in the mozzarella pieces and parmesan immediately, while the rice is still hot, so the cheeses melt evenly. Stir in butter, prosciutto and parsley. Adjust salt to taste and stir in some cracked pepper. Serve immediately while hot.
Serves 6 as a first course
Wine Sangiovese or dolcetto.